Heleus News Service
| | |
| --- | --- |
| | This article is a stub. You can help Mass Effect: Andromeda Wiki by expanding it. |
This article is a stub. You can help Mass Effect: Andromeda Wiki by expanding it.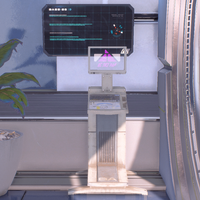 The Heleus News Service (HNS) is an independent arm of the Andromeda Initiative and is run by Davis Qar. With the assistance of Pathfinder Ryder, receiving equipment has been delivered to the outposts on Elaaden, Eos, Kadara, and Voeld.
News stories can be accessed on the HNS terminal located in the entryway nearby the Tempest in the Docking Area on the Nexus.
New HNS stories are added as game play progresses.
As Milky Way species work to establish themselves in Andromeda, gathering and disseminating accurate information about galactic events in the public interest has fallen to the fledgling Heleus New Service.
Novice journalist Davis Qar came to Andromeda to report and learn under a seasoned editor. But when Qar's mentor was reportedly killed in the Nexus uprising, he was forced to set up the official source of news on the Nexus largely by himself.
HNS operates with an arms-length agreement and partial funding from the Andromeda Initiative, a model similar to some national news services in Earth's past. This has raised questions among some colonists about the service's potential bias, though Qar stresses that if HNS has an agenda, it is to hold Initiative leadership accountable while chronicling a new era of space exploration.